Now it's only a couple of weeks left until the festival starts. There will be amusing discussions, a fantastic ball, a miscellaneous market, and much, much more. The most important aspect, however, are our guest – both you who buys a membership and sits in the audience, and our guests who partly will come a long way in order to participate in discussions and interviews. Round Christmas, we have already presented our guests of honour. Now we would like to continue with Nene Ormes, Elin Holmerin, Karin Tidbeck, Anders Blixt, and Steven Savile. So that there is even more for you to look forward to.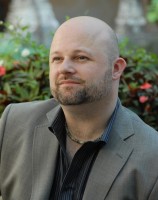 What makes you enthusiastic?
Anyone who knows me well knows I've got a few very nerdy loves – one being binge-watching genre tv shows. I was lucky enough to even con a publisher into paying me lots of money to watch tv a few years ago when I was working on Fantastic TV, a big celebration of fifty years worth of television.
The other is football. I've been a Spurs fan since I was about 8 or 9 years old, now, coming up 45, they're by far the longest relationship of my life and are more than capable of hurting me in ways that no one else can because every year I manage to convince myself this time it'll be different…
The third is technology. I'm obsessed with it. My morning ritual consists of checking out Engadget's reviews, CNET and clicking every link that promises something new and shiny.
What is the best thing about living in 2014?
I think we're absolutely living in the best time to be alive, we've found cures for so many diseases that only a few generations ago would have threatened us. We understand so much more about the nature and construction of our world and are always looking to push the limits of our understanding.
And we're so much more connected to the world. Think about it, fifteen years ago a cell phone was pretty much a kilogram brick of plastic with an enormous aerial sticking out of the top of it like some military radio. Now a cell phone is smart. We can walk around with access to the entirety of mankind's knowledge in our pocket. That's pretty staggering stuff.
The coffee is also pretty good.
In which fictional world would you like to live, if you had to choose one?
A lot of fictional universes are bloody terrifying… I mean who wants to live in Middle Earth with that whole war going on, or in Osten Ard with the Norns on the march [in the books by Tad Williams /the editor], or in the Star Wars galaxy of clones and mutants and an evil galactic empire? I mean… eeek. But there's something very romantic about Jonathan Carroll's novels, especially those opening few, Bones of the Moon, Sleeping in Flame, Land of Laughs, etc, which get called 'The Answered Prayers' series. I think I'd like to live in that kind of fantastical world where something magical is possible.